E-Z-ON Wheel Chair Mount for Medical Transport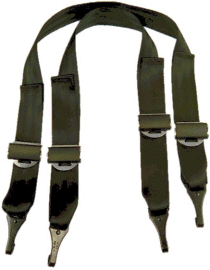 E-Z-ON Wheel Chair mount now with velcro!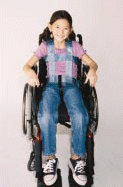 Securing the E-Z-ON Vest with passenger to a wheel chair is now easier than ever, with the new E-Z-ON Wheelchair Mount.
The E-Z-ON Wheel Chair mount is designed to secure the passenger in the E-Z-ON vest. Adaptable to any size wheel chair!
Tilt-lock adjusters make shortening and lengthening the mount straps easy!
Straps are easily shortened or lengthened with the Tilt-lock adjuster!
Cross the 2 webbing straps and wrap around both cross bars. Snap hooks easily attach to the vest at the shoulders and the hip straps. Reduce slack in web straps and your passenger is ready to ride!
It is necessary to use approved tie downs and not the E-Z-ON Wheel Chair Mount to secure the wheelchair on the school bus.
Approved tie downs are required to secure the wheelchair.
Back view of wheelchair with New E-Z-ON Wheel Chair Mount