EZ-ON Products for Safe, Secure Transportation
EZ-ON Products is the safe, reliable solution for children and adults requiring additional support during transportation

EZ-ON harnesses and vests provide the same ease-of-use and safety benefits as a standard seatbelt, plus the extra security and restraint features needed to properly protect children and adults with special needs or injuries during transportation.
Transportation Vests
Conversion Vests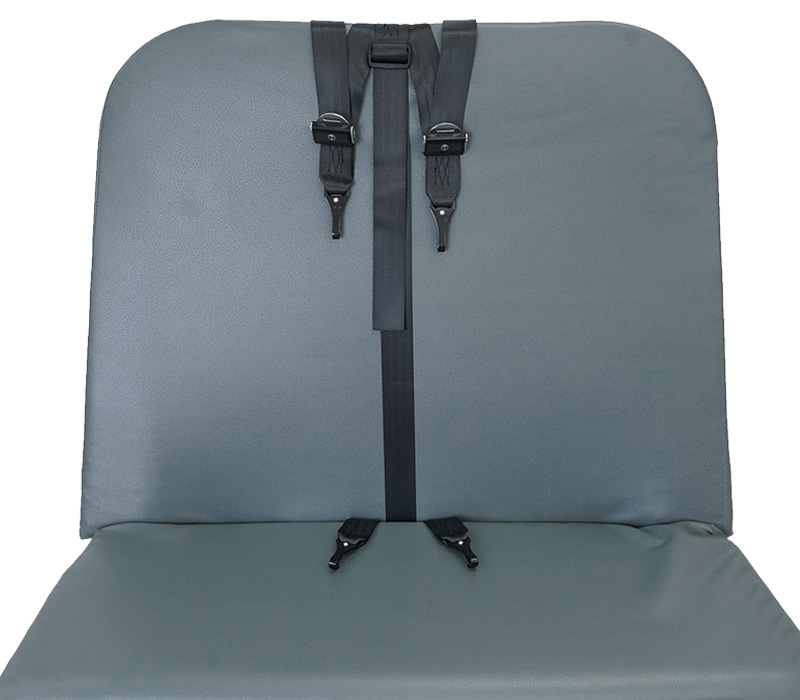 Vehicle Mounts
Parts & Accessories

EZ-ON Products was founded in 1985 in Southern Florida by Constance Murray, who saw the need for reliable safety products to transport children with special needs. Her original safety vest and mount design became the foundation of our company, which focuses on transportation safety products for both school bus and family vehicle use that are easy to install, easy to use, and easy to love.
Purchased by Luke and Marina Wollak in 2017, EZ-ON continues to leverage 60 years of manufacturing experience and a family-focused approach to business that is reflected in our dependable products made with care.

Made in the USA
EZ-ON Products is a small, family-owned and -operated company. Our products are made in the USA and designed to meet the needs of individuals and families traveling on American streets and highways every day.
Meets or Exceeds NHTSA Standards
All EZ-ON harnesses and vests meet or exceed the National Highway Traffic Safety Administration's (NHTSA) standards for child restraint systems.
Fidget-Proof Design
EZ-ON Products are comfortable enough for passengers with sensory challenges to wear for extended periods of time without issue, yet secure enough to ensure little escape artists don't wiggle their way to freedom mid-trip.
Customer-Centered
The EZ-ON team is here to listen, to answer your questions, and to help you navigate challenging circumstances by creating the best possible transportation safety solutions for your needs. Our short lead times and abundance of online resources are designed to get you the solutions and answers you need promptly and with ease.
EZ-ON Products are sold by our trusted dealers across the country. Use our dealer finder to locate a dealer near you!


Trusted Seller Network



Quick Shipping Options



Competitive Pricing

Real Customers Love EZ-ON!
I recommend this to everyone
My daughter was not staying in her seat. This product has changed our driving situation for the better. I recommend this to everyone.
High-quality products!
This worked when nothing else would. Very well made and comfortable for my 6 yr old boy. A high-quality product!
Safely and securely
My child has seizures and lacks safety awareness. This allows him to sit safely and securely in our family vehicles, now that he has outgrown his 5-point booster.
Highly recommended
My autistic son easily escaped his seat harness, so the EZ-On harness with crotch strap was perfect. It's comfortable, easy to store, and my son willingly wears it for outings. The tether strap is the only item needed to change vehicles.
Very happy with the purchase
I have a daughter, diagnosed with ASD, who is able to get out of most car seats and belts. She has not figured out how to get out of this one. We are very happy with the purchase and grateful that it was available to us. Thank you!
Excellent quality
After years of only being able to take family trips in the same vehicle, the EZ-ON Adjustable Vest has opened up possibilities for my child and our family. The straps fit perfectly and helped to maintain her position just as good if not better than her traveling in a wheelchair. Additionally, she seemed more comfortable.
Need help finding the right product?